Free Logo Mockup PSD Templates For Designer
We are very happy to introduce you our new freebie collection "Free Logo Mockup PSD Templates For Designer" this is absolutely free to download just checkout out below content for your reference and checkout all the freebie stuff in the existing post.
We are very sure you have seen such post before in other sites but we have something different here after long research we collect a huge collection "Free Logo Mockup PSD Templates For Designer" of premium flyers those are very creative, amazing, beautiful and elegant flyers. You can download them from there original site we have only showcase them in our blog for promote these freebies. Enjoy this freebie!
If you like our work so please don't forget to share and subscribe our website for latest updates and please share your feedback below comment section, we really appreciate your contribution.
01:  Free Photorealistic Gold & Silver Foil Logo Mockup PSD
Today, we have designed another premium gold & silver foil logo mockup with fully customizable PSD file.
Change the background color, background texture, change the color of the card, either use gold foil or silver, make the card white by hiding the color overlay effect on the layer "change page color". Make it full black and use any background or even remove background to use fill color only.
02: Luxury Logo Mockup
Today we have a beautiful and deluxe logo mockup for you! You may like to show your design, logo or text in a marvelous way and this Logo Mockup will help you do that.
I will be very proud if you use this free file and share it with your friends as well. Thanks to Smart objects in Photoshop, you can easily Mockup your design and have a final result. Download this file and enjoy it. If you like it just tell me so i can continue better. Thanks
03: Photorealistic Logo Mockup PSD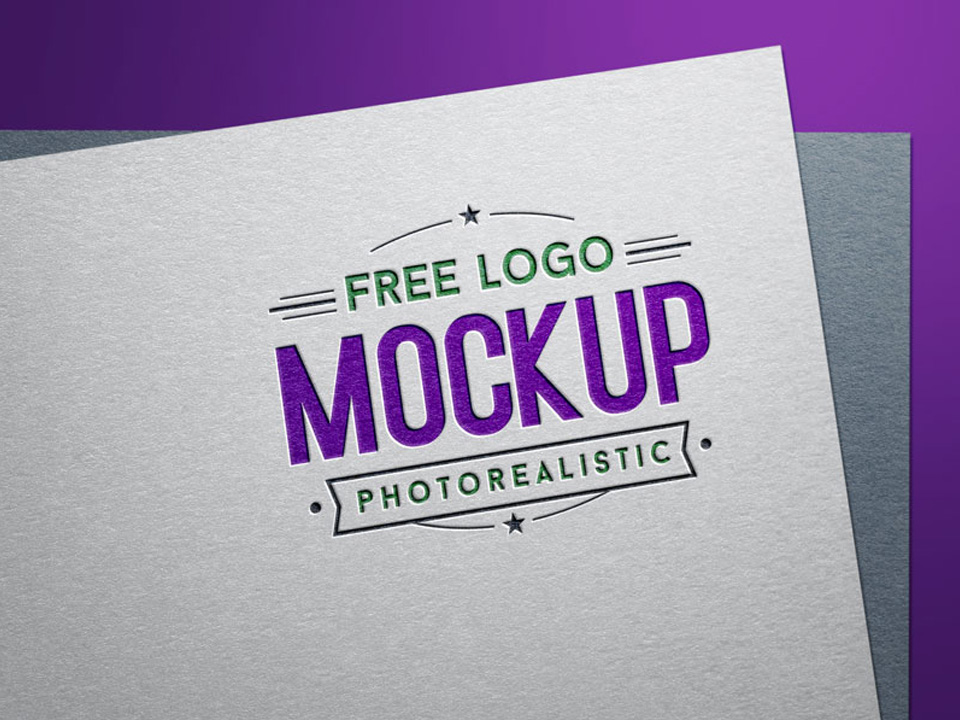 Download Free Photorealistic Logo Mockup PSD. You can showcase your typography, logomark, logo design or symbol using the smart object layer. Good work done by Good Mockups.
04: Fabric Embroidered Logo Mockup
Friends, this is a fresh idea to make your logo design look like a realistic embroidered logo on a fabric or piece of cloth. Carefully created, this logo mockup will surely give you some cool fun. Download and use the PSD file to add your own brand identity or icon design and get the effect in seconds. You can also change the background fabric color as well as the logo and thread colors of your choice. Just play around with the layers within the folders and you'll wind the ways to do that.
05: Rubber Stamp Logo Mockup
Friends, today's design is realistic a rubber stamp logo mockup to showcase your logo, badge, symbol or icon design and impress your client. Use the smart-object layer and add your own design in the free PSD file and you will convert the mockup in no time. Download and have creative fun.
06: Gold Foil Logo Mockup
Friends, here's a paper edition gold foil logo mockup in PSD format. The photo-realistic logo mockup is crafted with care for details. Ideal to showcase your logos, insignias, badges and letterings, especially if you love gold effect. With the help of smart-object layers, it's a breeze to update your own logo within no time.
07: Leather Mockup
Freebie alert! Today I'm glad to present this sleek Leather Mockup that you can use for presentation projects, regardless of the purpose – personal or commercial. Download this Leather Mockup PSD for free and manipulate the logo without distorting the leather effect so it suits your design's needs. The gold details are a great addition to this design and you can add whatever logo you want so it fits your vision. As always, please read the license and show your support by sharing this freebie with the world! You can find the background here.
08: Logo Mockup Free
High Resolution Logo Mock-Up with Foil Stamp Layer Styles to create that fancy look. Use it for advertising, portfolio, presentation, banner and more.
09: Vintage Leather Logo Mockups
These free logo mockups feature faded, cracked print on worn leather textures. Included is a perspective scene with shallow depth of field, and a flat mockup which keeps more of the scene in focus. To edit, simply update the included Smart Objects with your own artwork. Photoshop CS6 or higher recommended.
10: Weathered Logo Mockup
Friends, today's design resource is a weathered logo mockup in PSD format. This aged mockup or wall paint peeling logo template is useful to showcase your vintage design. Using the smart-object layer you can replace your  own logo and change the color of the logo as well. The free fonts used are Cast Iron, Bebas Neue and Selima.